Semen Shipping Services:
Planning on shipping semen or transferring some straws to another person? Great Lakes Sire Service makes it easy for you.
The semen owner needs to complete the release form thoroughly and sign/print their name and email to glssmi@yahoo.com or fax it in to (269) 489-5658.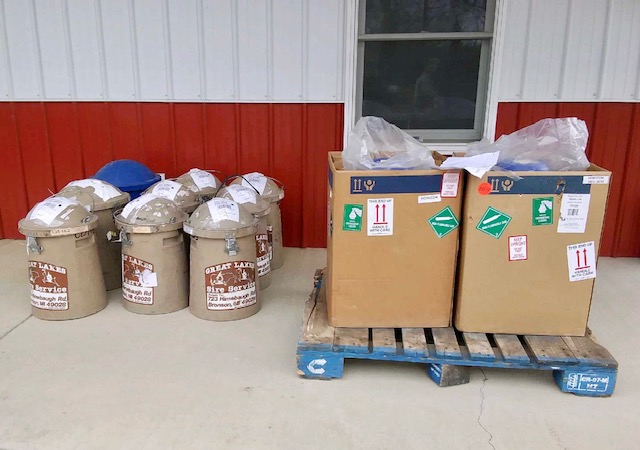 Frequently Asked Questions:
What is the difference between shipping and transferring semen?
Shipping means you want the semen shipped to you or the person selected
Transfer means that the semen will be put into storage of the person selected at GLSS; it will not be shipped
Who pays for the shipping/transfer of semen?
The semen owner indicates who pays the shipping/transfer charges by writing in the name of person, their address, and phone number in the "bill charges to" section on the release form. If nothing is indicated, the owner of the semen will be charged.
Do I need an address/phone number for the person who will be receiving the semen?
YES! Incomplete release forms are not processed.
What if I don't have the person's address/phone number; can GLSS get that information for me?
NO, GLSS will not find or provide the address/phone number for the person selected. Incomplete release forms will not be processed.
What is the cost of shipping or transferring semen?
Transfer fees vary – contact GLSS for exact fees.
Shipping costs vary as freight prices vary. Each shipping is charged a $35 handling fee + freight charges.
Contact GLSS with the zip code that semen will be shipped to; this will provide a basis on freight charges.
Remember: 2 day select and overnight shipments are more costly.
Is Insurance available for shipping semen?
Yes, semen can be insured, but the owner needs to REQUEST insurance and complete the release form to be sent into GLSS with the semen cost to determine a shipping value.
Can I hold semen in the vapor shipper until I need to ai?
No! Vapor shippers are used to transport semen only; they are not storage tanks. You should have your own nitrogen tank to put semen into once it arrives.
Once the tank arrives, how do I get the tank back to GLSS?
GLSS will arrange pick up of the vapor shippers with the customer and UPS. Generally, shippers will be picked up the next day by UPS after the semen is delivered to you. Please have a note on the top of the shipper tank stating "ready for UPS pick up for GLSS" and set the tank back out where UPS originally dropped the tank off at. If you have more than one vapor shipper sitting at your place, UPS will most likely pick up the wrong one and return it to us with the GLSS call tag. You will be responsible for paying for the shipping of our tank back to us and most likely responsible to pay the shipping of the tank that came to us back to its original owner.
I have more than one tank at my place and UPS picked up the wrong tank to return to GLSS?
It is imperative that you place a note on top of vapor shipper indicating which tank belongs to GLSS so UPS drivers pick up the correct tank. If they picked up the wrong one, please contact GLSS right away. You will be responsible for paying additional charges to pick up the correct tank and getting the tank returned to GLSS. You may also be responsible for paying for the charges incurred of getting the wrong tank picked up to its original owner.
Can I ship semen out the same day I send in the release form?
NO – DO NOT PLAN ON IT! During the fall months, customers need to submit their release forms at least a week before to schedule shipments; 2 weeks is better. Vapor shippers are limited and are on a first come first serve basis. If your order has to go out the same day you will be charged an expedite fee of $50/order.
Can I call in with my shipping/transfer request?
NO. Written authorization is required. Please complete the release form as it is designed to create a record for you, your customer and for GLSS.